Contact Info
Compass Retirement Solutions
Marvin Mitchell
10326 Old Olive Street Road
St. Louis, MO 63141
Phone: 314-373-1598
Fax: 314-373-1598
Visit our Website
Photo Tour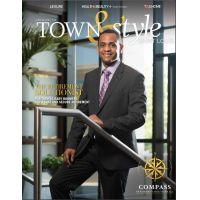 Services
INVESTMENTS
Services for Baby Boomers
Services for Small Business Owners
Services for Professionals & Families
Retirement and Income Planning
Insurance Services
Tax Planning
Education Planning
Hours of Operation
Monday-Friday 8am to 4:30pm
About Us
Marvin Mitchell
, president and CEO of Compass Retirement Solutions, LLC, has dedicated his career to changing the way people view saving for retirement after witnessing first-hand the devastation poor financial advice and planning can inflict on families.
Mitchell grew up in a close-knit, working-class family in St. Louis, with very little money. The first person in his family to earn a college degree, Mitchell put his law school education on hold to help care for his grandmother in her final days after she was diagnosed with Stage IV cancer. Mitchell discovered the sad truth about his grandmother's finances as she was dying. Though she had worked her whole life and followed all of the traditional rules of retirement planning, poor financial advice and a huge stock market crash led her into financial turmoil during her battle with cancer, making her feel like a family-burden in her final years. Mitchell was inspired to enter the financial services business to keep this from happening to other, hard-working American retirees.
At age 21, Mitchell became the youngest broker at a leading financial institution in St. Louis, but was soon fed up with being tied to a large company where meeting quotas was more important than the client's best interest. He founded Compass Retirement Solutions, LLC, with a mission to ensure each of his clients have guaranteed income for the rest of their lives, while also minimizing taxes owed by the generations to come.
Specializing in wealth management and retirement planning, Mitchell is renowned for his "Understanding Different Retirement Strategies" seminars. He helps retirees and pre-retirees, such as the baby boomer generation, effectively plan their finances through 401K rollovers, IRA transfers and retirement income protection.
Mitchell, who has historically been in the top one percent of financial service agents nationwide, has been recognized as one of the Top 20 Influential People by
Gazelle Magazine,
recently received the 2016 St. Louis County NAACP Distinguished Legacy Award and has been honored as one of the top St. Louis Professionals for Economic Empowerment. He has been a featured expert in publications such as the
St. Louis American, Town & Style
and more. He hosts the weekly radio show "
Re-Thinking Retirement
" on KTRS 550 AM in St. Louis every Sunday at 7 a.m. CST and frequently appears as a retirement planning expert on KSTL 690 AM.
A St. Louis native, Mitchell is passionate about giving back to his local community. He and his team at Compass Retirement Solutions spend extra hours volunteering at local homeless shelters, donating college scholarship money for lower-income students and contributing to breast cancer awareness and education. Mitchell served as vice president of leadership development for Urban League Young Professionals of St. Louis and is a former board member of United4Children.
Mitchell holds a bachelor's degree in mass communications from Southern Illinois University – Edwardsville. In addition to his passion for finances, he is also a leadership speaker, coach and trainer certified by the John Maxwell Company. In his spare time, he enjoys travelling to tropical locations, playing softball and being active in his local church. For more information, please visit
www.compassretirementsolutions.com
.
Vision
To be considered the Trusted Advisor by our clients for our professional knowledge, integrity, and personalized service.
Mission to Deliver
To inspire our clients in making informed financial decisions through education, communication, and service, exceeding their expectations.
Phase I: Discovery
We begin this stage during our initial meeting where we get to know one another. We focus on what your specific needs are and what you want your investment capital to do for you.
Phase II: Strategy
The primary objective of this stage is to develop an effective, long-term investment strategy that is custom tailored to the unique needs of each client. We then develop a comprehensive plan that outlines the strategy we recommend for long-term success.
Phase III: Implementation
The primary objective of this phase is to successfully implement your investment strategy. By means of constant communication and a highly skilled staff, we strive to make this process quick and easy for you.
Phase IV: Monitoring and Adjusting
We monitor our client's accounts on a regular basis to ensure they are still performing in a way that meets their intention. When we discover that a client's circumstances have changed, or that shifting global markets require a different investing approach, we are quick to make adjustments.